ELECTRIC CARS AND PLUG-IN HYBRIDS.
We've been making electric cars for over four decades. When we adopted sustainability and the environment as our focus, we created a production chain that helped us become the largest supplier of electric cars in Europe. Right now, on roads all over the world, there are over 320,000 rechargeable BMW cars in use.
It's easy to see that driving green is the "new black". But, keeping track of the differences among rechargeable car brands and models, while figuring out which one fits you best, can be quite a challenge. That is why we are presenting all you need to know about electric cars, along with an overview of our entire electric car range. You will also find a summary of our extensive environmental and sustainability work, all aimed at creating a greener fleet of vehicles.
Read more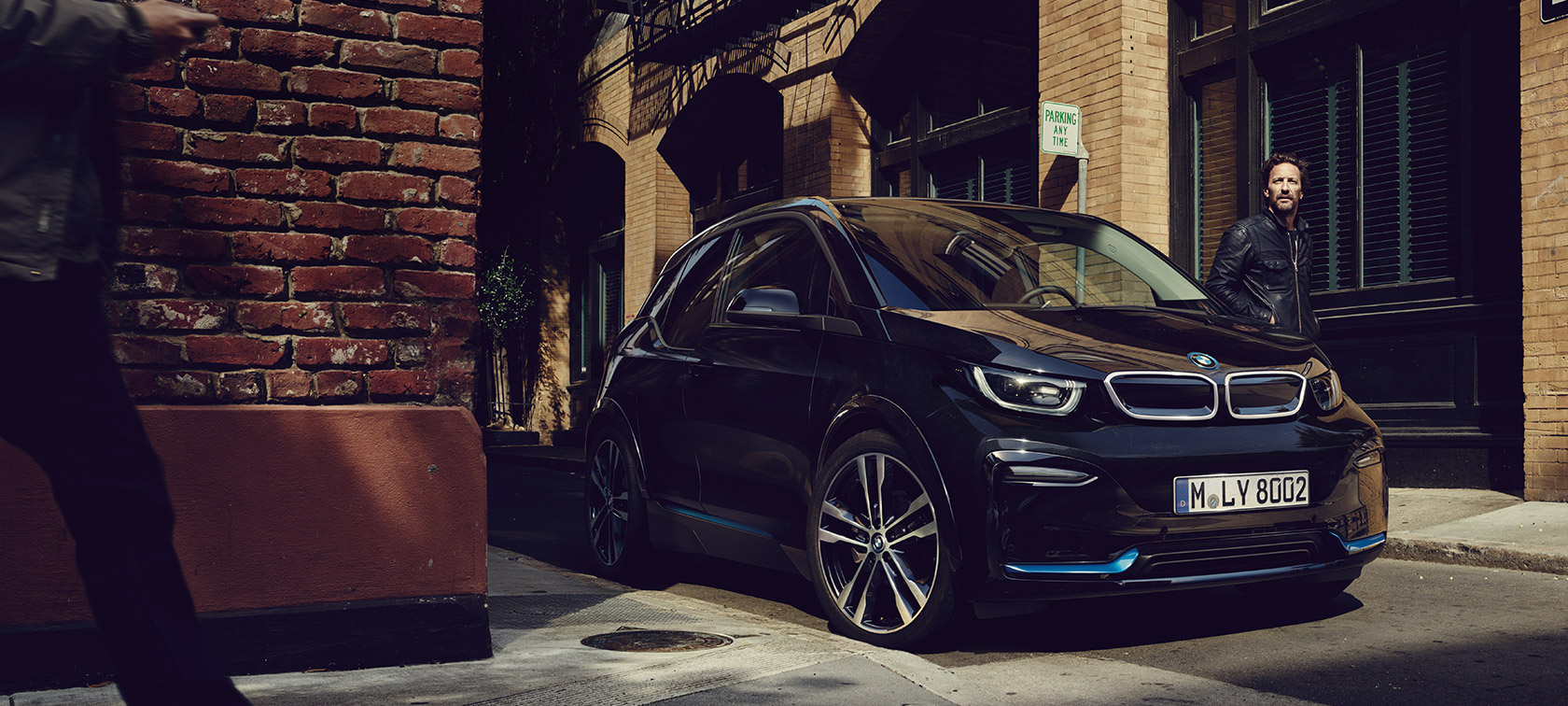 BMW i MODELS.
BMW i is a comprehensive concept for sustainable and future-oriented mobility. It stands for visionary electric vehicles and mobility services, inspiring design and a new understanding of premium, which is strongly defined by sustainability and inspires with innovative vehicles: with the all-electric BMW i3 as a consistently sustainably designed emission-free vehicle for urban traffic and the BMW i8 Roadster and i8 Coupé as the sports car of the future.
BMW i3.
The BMW i3 does not follow any trend, it is an expression of a self-confident lifestyle. Its progressive design language conveys clarity on the outside and lounge character on the inside. Equipped with a lightness that convinces with sustainable materials and functional details. A vehicle with which individuality becomes trend-setting.
System output 125 kW / 170 hp

0-100 7.3 sec

Consumption 0 l

Electric range 260 km
BMW i3s.
If sporty and emission-free driving means the future, then the BMW i3s arrived there a long time ago. And it takes off right away. With an impressive 6.9 seconds to go from 0 to 100 km/h, a typical one-pedal feeling, and its progressive design, it unleashes the dynamics of a sports car. Emotions under electric current are experienced with every metre.
System output 135 kW / 184 hp

0-100 6.9 sec

Consumption 0 l

Electric range 260 km
BMW i8.
The future further developed - in the form of the new BMW i8 Coupé. Inspiring, fascinating and ready to reinterpret mobility. For innovative driving pleasure as far as the road goes. The adrenaline level rises just by looking at it. The rev counter also rises just as fast: the innovative plug-in hybrid drive generates 275 kW (374 hp) and accelerates the new BMW i8 Coupé from 0 to 100 km/h in 4.4 seconds.
System output 275 kW / 374 hp

0-100 4.4 sec

Consumption 1.8 l

Electric range 55 km
BMW i8 Roadster.
Boasting the latest eDrive technology and intelligent energy management, the BMW i8 Roadster now delivers more power and an increased electric range. Add to this a turbocharged three-cylinder engine, which accelerates from 0 to 100 km/h in just 4.6 seconds and you have a new icon of driving pleasure.
System output 275 kW / 374 hp

0-100 4.6 sec

Consumption 2.0 l

Electric range 55 km
BMW i3.
BMW i3s.
BMW i8.
BMW i8 Roadster.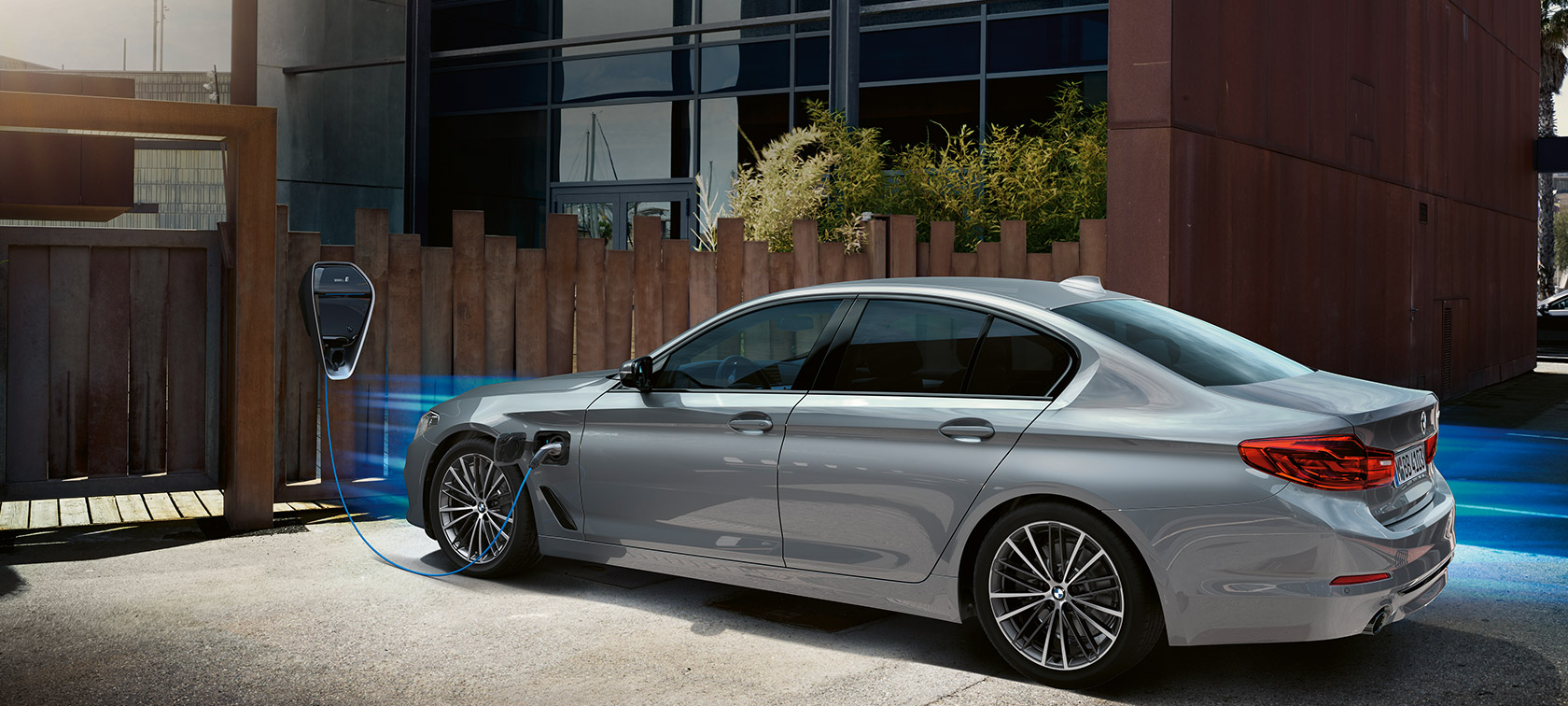 BMW MODELS WITH PLUG-IN HYBRID.
A Plug-in Hybrid, sometimes called a hybrid car, is powered by both an electric motor and a combustion engine. The car runs on a battery that is recharged in the same way as in an electric car.
BMW 330e Sedan.
The innovative drive concept of the BMW 330e comprises the new even more powerful BMW TwinPower Turbo 4-cylinder petrol engine, the highly efficient eDrive electric motor and BMW EfficientDynamics technologies. Together they generate a system output of up to 215 kW/292 hp. The result is more output, better acceleration and substantially lower fuel consumption. *Expected to be available from 07/2020. Provisional, not yet confirmed data, subject to change without notice.
System output 185 kW / 251 hp

0-100 7.1 sec

Consumption 1.9-1.6 l

Electric range up to 60 km
BMW 530e Sedan.
The BMW 530e is ranked as one of the best Plug-in Hybrids in its segment. The car combines electrical, emission-free driving over shorter distances with dynamic performance and top comfort on longer journeys.
System output 185 kW / 252 hp

0-100 6.1 sec

Consumption 2.2-2.1 l

Electric range up to 64 km
Find out more
BMW 745e.
The BMW 745e gives you the best of both worlds. The synergy of its six-cylinder engine and state-of-the-art, high-voltage battery delivers maximised output, improved energy consumption values and, on battery alone, driving at speeds of up to 140 km/h. The BMW 745e offers a new level of luxury with full-leather upholstery and seat massage.
System output 290 kW / 394 hp

0-100 5.2 sec

Consumption 2.2-2.1 l

Electric range up to 58 km
BMW 330e Sedan.
BMW 530e Sedan.
BMW 745e.
BMW X MODELS WITH PLUG-IN HYBRID.
The BMW X1 xDrive25e, BMW X3 xDrive30e and BMW X5 xDrive45e offer both the sustainability of a hybrid vehicle as well as the driving dynamics, performance and comfort of a genuine BMW SAV. Made for every adventure.
BMW X5 xDrive45e*.
The new BMW X5 xDrive45e* delivers a total output of a massive 394 horsepower, a range of up to 80 kilometres* of fully electric driving, a characteristic sporty look, unlimited off-road performance and exceptional efficiency. In other words, you have everything you need to go where you want -- when you want. *The data are estimated values that have not yet been officially confirmed. The expected consumption values were determined in accordance with the prescribed measuring procedure VO (EU) 715/2007 in its current version
System output 290 kW / 394 hp

0-100 5.6 sec

Consumption 2.1-1.7 l

Electric range up to 80 km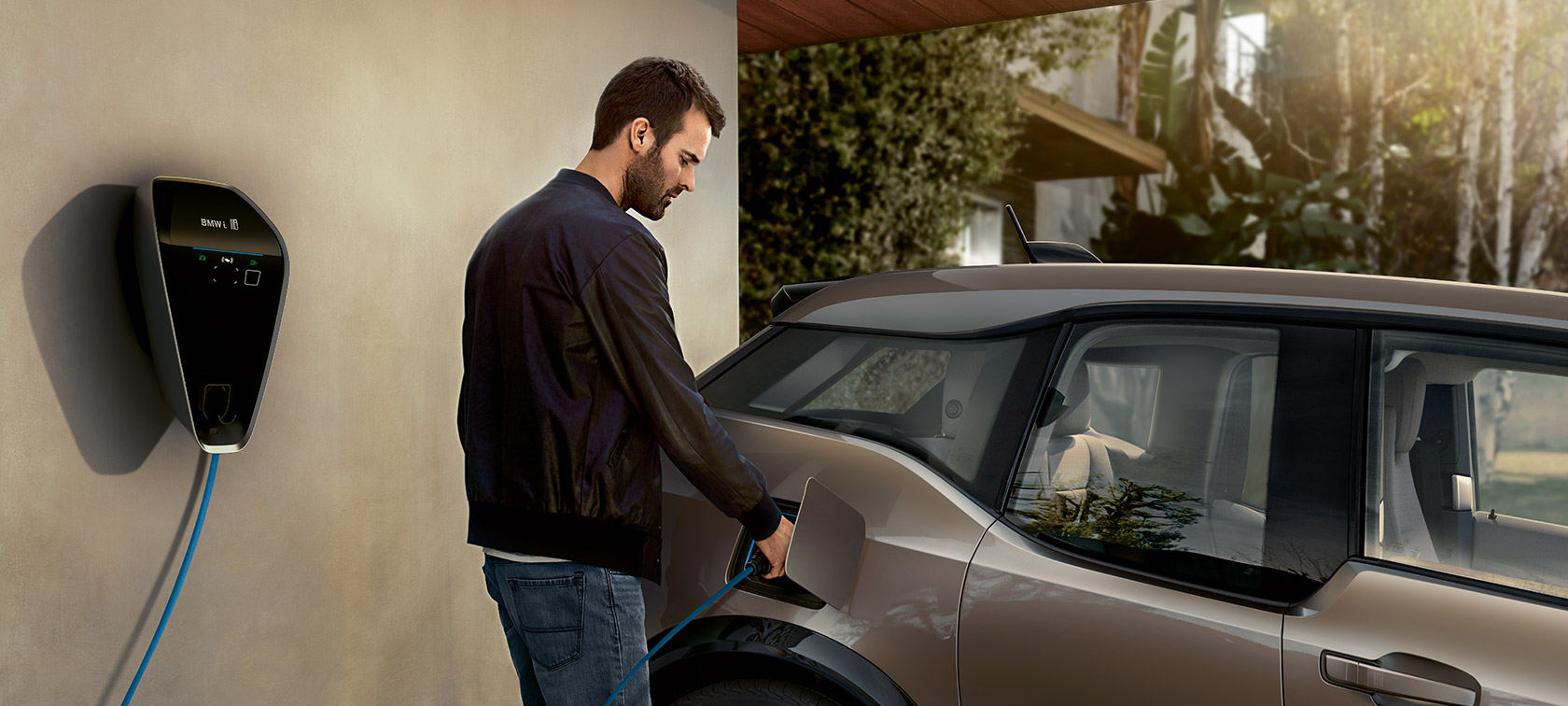 EVERYTHING ON CHARGING.
Just plug in and charge It's that easy. But we know that it gets confusing. That's why we've collected everything you need to know about charging and range right here. For example, did you know that it takes just 45 minutes to charge the BMW i3 battery up to 80%? Pretty fast, right? With 80%, you can make plenty of trips to work, the gym and the supermarket.
Read more
CHARGING OPTIONS.
Wallbox.
The easiest way to recharge an electric car is to do it at home. With a BMW i Wallbox, this can be done quickly and easily. The Wallbox comes in three versions – check the product descriptions below and select the one that best suits your needs. If you need help with installation, our installation service is ready to assist.
Chargefox Charging Stations.
BMW with the partnership of Chargefox using intelligent technology and smart mobility service, quickly get an overview of where, when and how you can best charge your car. In addition we are dedicated to expanding our network of charging stations around Australia. Keep a look out – more power is on the way.
Find Chargefox public charging stations
Wireless charging.
BMW is the first car manufacturer in the world to offer wireless charging for a Plug-in Hybrid. BMW Wireless Charging allows you to drive forward over the charging plate, at which point charging commences immediately. No cable needed.
BMW i WALLBOXES.
BMW i Wallbox.
BMW i Wallbox Original incorporates both single-phase and three-phase technology as well as a fast-charge cable. With this set up, you can charge up to 80% of the battery in three hours, typically a reduction of up to 85% of the charging time needed using a standard cable. Bear in mind that charging time may be affected by the electric grid accessed and car features.
BMW i Wallbox Plus.
BMWi Wallbox Plus has the same product features as BMWi Wallbox, but can accommodate several users, controlling access through integrated RFID authentication. The box can be upgraded to work as Wallbox Connect.
BMW i Wallbox Connect.
With BMW i Wallbox Connect, in addition to the BMW i Wallbox Plus features, you also get an integrated communication module with built-in Wi-Fi. The Wallbox is configured for digital charging services such as charge status, history, user admin, remote control and tariff optimisation. It is controlled via the BMW Connected app.