OUR ELECTRIC CARS.
On the fastest track into the mobile future: with electric cars like the BMW i3 and BMW i3s as consistently sustainable and locally emission-free vehicles, today BMW is already making it clear that the brand stands for tomorrow's mobility. The impressive acceleration and dynamics of the vehicles that offer maximum driving fun, also ensure that sheer driving pleasure is set to remain part of the BMW DNA in the future. At the same time, BMW attaches great value to creating a new understanding of premium with innovative mobility services, inspiring design and visionary drives. And they are taking the next decisive step with the groundbreaking BMW iX3, as the first fully electric SAV (Sport Activity Vehicle) of the BMW electromobility offensive, which is launching in 2020. Experience electric vehicles and the digital services of BMW Charging that are there to support you with future-oriented mobility solutions in every situation.

Read more
BORN ELECTRIC: BMW i3 & BMW i3s.
The BMW i vehicles allow for fully electric driving with a maximum amount of driving pleasure.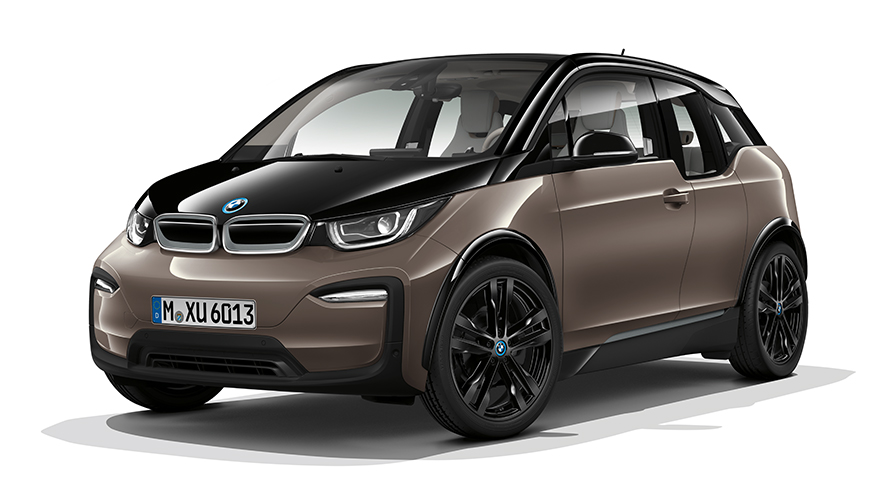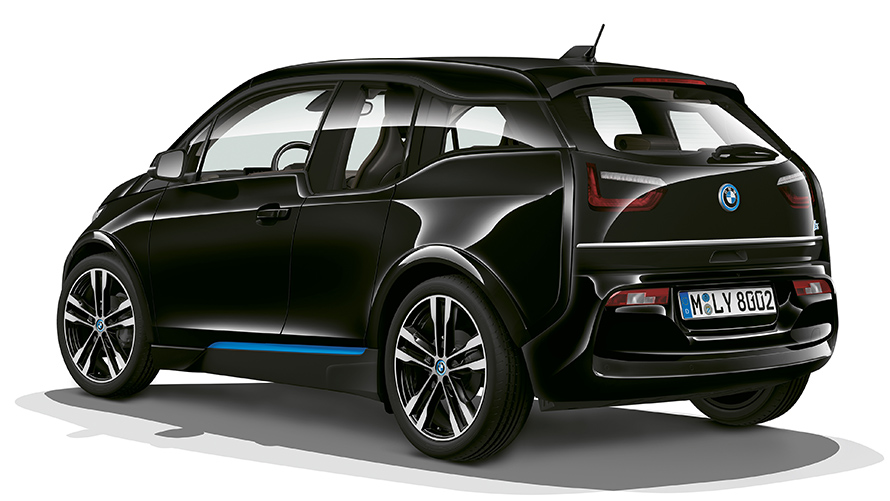 BMW i3.
The BMW i3 does not follow any trend, it is an expression of a self-confident lifestyle. Its progressive design language conveys clarity on the outside and lounge character on the inside. Equipped with a lightness that convinces with sustainable materials and functional details. A vehicle with which individuality becomes trend-setting.
BMW i3s.
If sporty and emission-free driving means the future, then the BMW i3s arrived there a long time ago. And it takes off right away. With an impressive acceleration, a typical one-pedal feeling and its progressive design, it unleashes its sporty dynamics. Emotions under electric current are experienced with every metre.
How does an electric car work?

The way in which an electric car functions differs fundamentally from that of a vehicle with a combustion engine in that the motor of an electric car is not powered by fuel but exclusively by electricity. This electricity is stored in a battery, the capacity of which determines the range, in other words, the distance that can be covered with one battery charge.

What advantages does an electric car have?

The advantages of an electric car are primarily as follows: it drives more or less silently and is emission-free when actually driving, i.e. in a very environmentally friendly and sustainable way. In addition, the purchase of electric cars is often subject to local tax incentives or subsidies so that electric cars are often favourably priced for the user.

Is support provided for the purchase of an electric car?

Electric cars are in the highest category of country-specific support and tax incentives.*


* May vary according to country and has to be adapted to specific market conditions.

Who is an electric car suitable for: families, commuters, city drivers?

Who an electric car is suitable for depends on the driver's particular preferences – with an average range of several hundred kilometres, BMW electric cars can definitely exist both in urban and commuter traffic. A BMW i3 or BMW i3s with four seats is a suitable family car as will be the BMW iX3, which is due to launch soon. A plug-in hybrid is ideal for car drivers seeking the greatest possible versatility: firstly, an electric drive for every day use, such as the cost-optimised and sustainable commute to the office. And secondly, maximum range and flexibility for long distances such as for the weekend excursion with the family.

What advantages does an electric car have over a hybrid?

The combination of combustion engine and electric drive means that a plug-in hybrid can in fact achieve a higher overall range than the electric car. On the other hand, a purely electric car does receive the highest subsidies or tax incentives. In addition, it has the lowest level of emissions and is often more economical in terms of servicing and use due to lower insurance prices and electricity costs.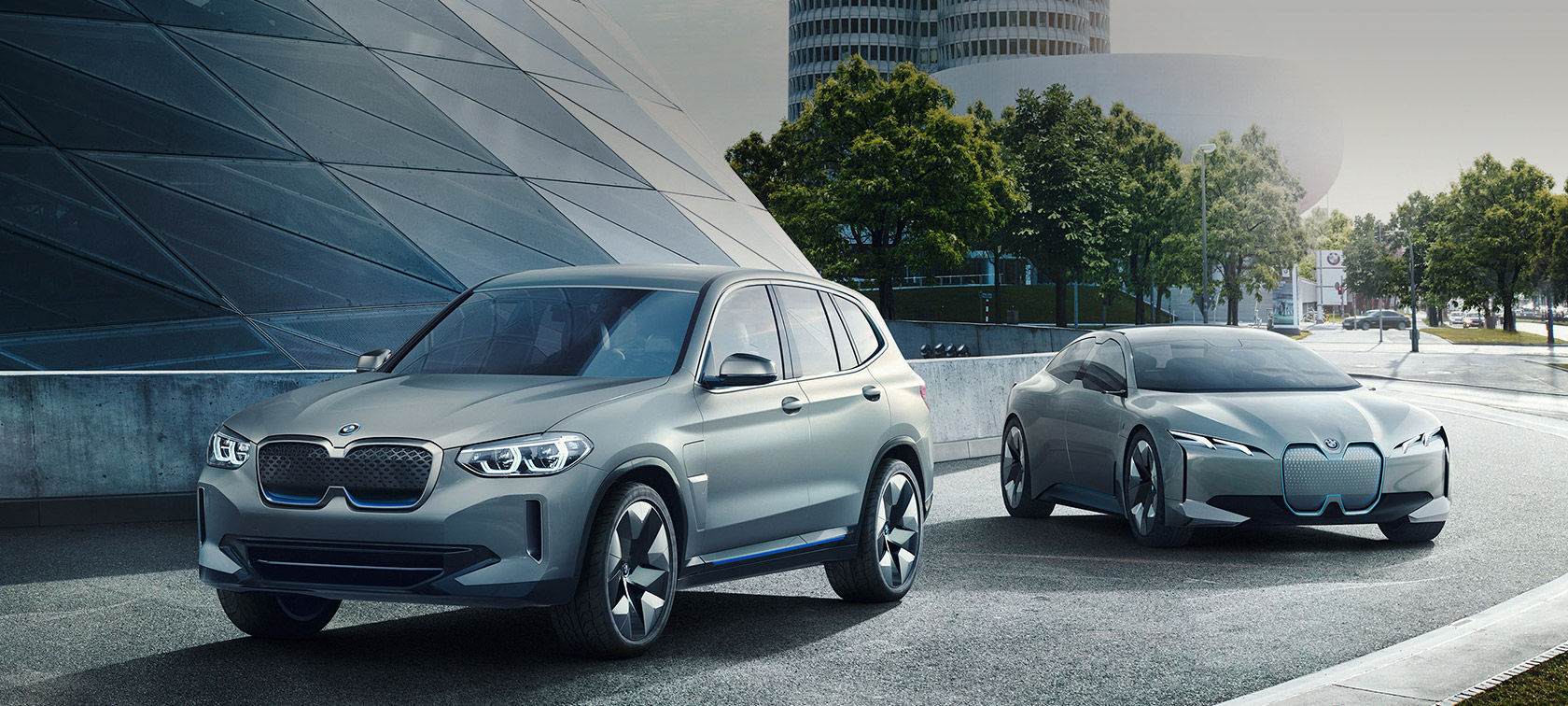 THE OUTLOOK UNTIL 2023.
The groundbreaking concept cars from BMW.
Today BMW can already look back on 10 years of experience with electromobility in both small and large scale production, with the BMW i models continuously undergoing further development and their technology being used to gradually electrify vehicles of the BMW family. The next step now is to fully integrate the strategic innovation fields of autonomous driving, connectivity, electrification and services (ACES) into the vehicles. In this work, the design provides a structure for the innovation fields and answers the question of how we will experience sheer driving pleasure in the future (D+ACES).
Read more
BMW CONCEPT iX3.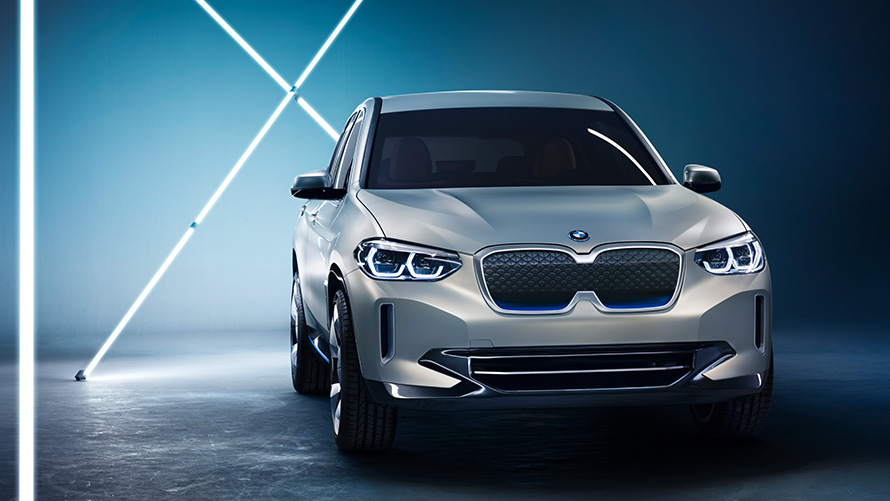 BMW CONCEPT iX3.
The future is electric and with its BMW Concept iX3, BMW is presenting a design study for the first fully electric Sport Activity Vehicle (SAV). Equipped with the 5th generation BMW eDrive technology and a powerful battery, the future series-production vehicle offers a range in everyday use of over 400 km*. The BMW Concept iX3 is therefore making electric driving possible at a new level.

*These are provisional values


BMW VISION iNEXT.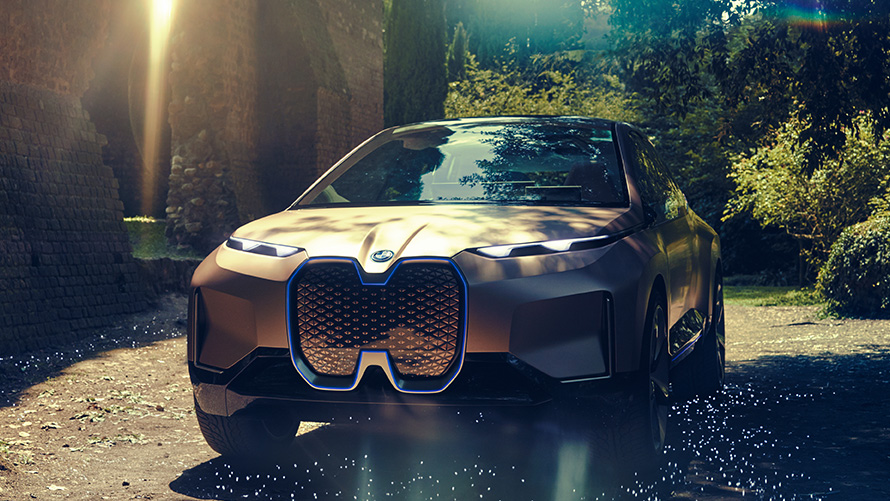 BMW VISION iNEXT.
Individual mobility is on the verge of a new era. Topics such as autonomous driving, electrification and connectivity are giving rise to new adventures. The BMW Vision iNEXT is making a bold and positive statement for the future ahead. It drives purely electrically, with a high level of automation and enjoys full connectivity. When travelling in the BMW Vision iNEXT, drivers can choose between taking the controls themselves in "Boost" mode and being driven in "Ease" mode. Thanks to the electric drive, "Boost" mode is highly dynamic, almost silent and emission-free. The interior gains a completely different design and an entirely new status. The BMW Vision iNEXT becomes a place of relaxation, interaction, entertainment or concentration. This makes it increasingly possible to determine how the time during the ride is put to use. From 2021, the series production model will be appearing on the roads as the new technology flagship.

BMW i4.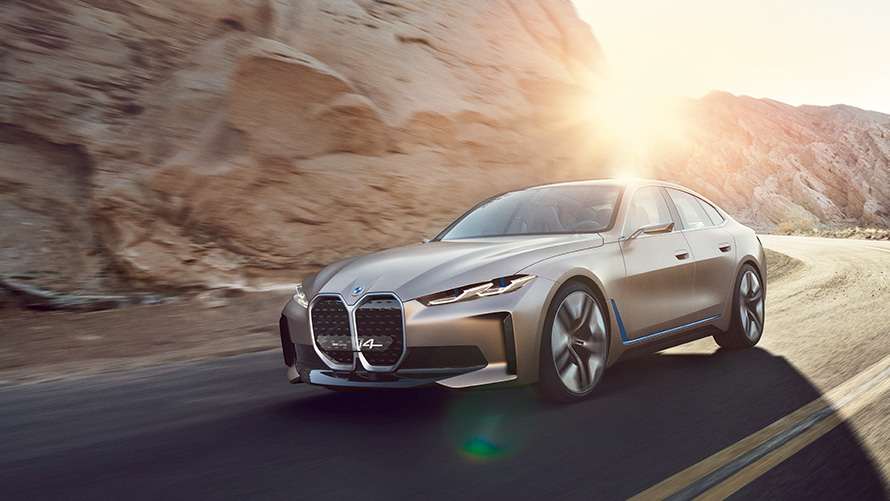 BMW i4.
In 2021, BMW is bringing a purely electrically driven four-door model into the market in the shape of the BMW i4. In addition to an extremely high electric range of up to 600 kilometres*, the vehicle will also be equipped with the new eDrive generation. Thanks to intelligent interplay between electric motor, lithium-ion high-voltage battery and energy management, this groundbreaking drive technology for BMW electric cars and plug-in hybrids optimises every driving situation.

*These are provisional values

CONNECTED DRIVE SERVICES.
Discover the services and apps of BMW ConnectedDrive.
Remote Services

Remote Services provides a convenient means of checking your vehicle range via the BMW Connected App on your smartphone. You can also use the BMW Connected App to prepare your electric car for departure before you set off. A program installed in the vehicle then automatically sets the battery to the optimum status so that consumption and range can be exploited to maximum effect.


Navigation

One exclusive navigation service for the BMW i3 is the range display, which is located in the navigation map and indicates the range of the electric car in the form of a blue zone. It shows precisely how much farther you can travel with the current charge level. As soon as you enter a destination that exceeds the calculated range, a stop for charging is proposed.