THE MODELS AND EQUIPMENT OF THE BMW X6.
Authority comes in many forms.
The M Sport package gives the vehicle an even sportier touch. In addition to an appearance sharpened by many details in the exterior and interior, the M sports package guarantees an increase in driving pleasure. The Adaptive M suspension, the Steptronic Sport transmission, the M Sport exhaust system, the M Sport brake and the M Aerodynamics package noticeably optimise the driving dynamics.
The M Sport package gives the vehicle an even sportier touch. In addition to an appearance sharpened by many details in the exterior and interior, the M sports package guarantees an increase in driving pleasure. The Adaptive M suspension, the Steptronic Sport transmission, the M Sport exhaust system, the M Sport brake and the M Aerodynamics package noticeably optimise the driving dynamics.
THE DRIVING DYNAMICS OF THE BMW X6.
It doesn't drive but commands.
Whether BMW X or BMW M, no terrain is spared top performance. With driving dynamics components, such as the Adaptive M suspension Professional in combination with the xDrive all-wheel drive system, the BMW X6 produces peak performance on every terrain. Experience dominance in detail.
M Sport exhaust system.
The M sport exhaust system delivers a sound that can be adjusted to an even more intense engine sound with the driving dynamics buttons in the SPORT and SPORT+ programmes, while the comfort-oriented programme prioritises more discreet engine acoustics.
Adaptive M suspension.
The Tyre pressure indicator shows the exact air pressure at all times and automatically warns you of any loss of pressure. The system uses sensors to monitor data for each tyre before transmitting it wirelessly to a control unit. This way the Tyre pressure indicator is capable of displaying both slow and rapid loss of air pressure.
M Carbon mirror caps.
The M Carbon mirror caps emphasise the powerful, sporty design of the vehicle.
M Carbon rear spoiler.
The M Carbon rear spoiler emphasises the vehicle's powerful, sporty design and noticeably reduces unwanted aerodynamic uplift on the rear axle.
Sport seats for driver and front passenger.
Dynamic and comfortable: the standard and individually adjustable Sport seats for the driver and front passenger feature numerous electric adjustment options, including backrest width and seat angle. Together with adjustable thigh support, the taller seat and backrest bolsters provide excellent ergonomics and more lateral support during fast cornering.
xDrive.
The intelligent BMW xDrive all-wheel drive system smoothly and variably distributes drive power to the front and rear wheels for maximum traction, driving dynamics and safety in every driving situation. For even better agility, the electronically controlled power distribution for instance counterbalances oversteer or understeer on bends.
xOffroad package.
The BMW X6 features an xOffroad package that allows you to travel safely and quickly on the road as well as on less solid surfaces at all times. Four selectable off-road modes adapt the all-wheel drive xDrive even more precisely to the current driving surface – for even better traction on sand, rocks, gravel or snow.
Driving Experience Control.
The Driving Experience Control offers the driver the choice between the standard COMFORT mode, ECO PRO Mode, geared towards efficiency, and SPORT mode, which enables even more dynamic driving. The new interactive Adaptive Mode function continuously adjusts the adaptive suspension, the steering and the Steptronic transmission to suit the current driving situation.
THE DESIGN HIGHLIGHTS OF THE BMW X6.
Dominates your pulse rate.
At first sight, the muscular vehicle body of the BMW X6 hints at the sheer power slumbering in the mighty BMW TwinPower Turbo 8-cylinder 530-hp petrol engine. Its athletic design language is crowned by the sturdy 22" M light alloy wheels in V-spoke style alongside further sporty details. Equipment options such as the BMW kidney grille 'Iconic Glow', the BMW Laserlight in X design and Panorama glass roof Sky Lounge set additional distinctive accents. The interior is equally impressive with its exclusive design details such as the glass applications 'CraftedClarity', the sports seats and ambient light.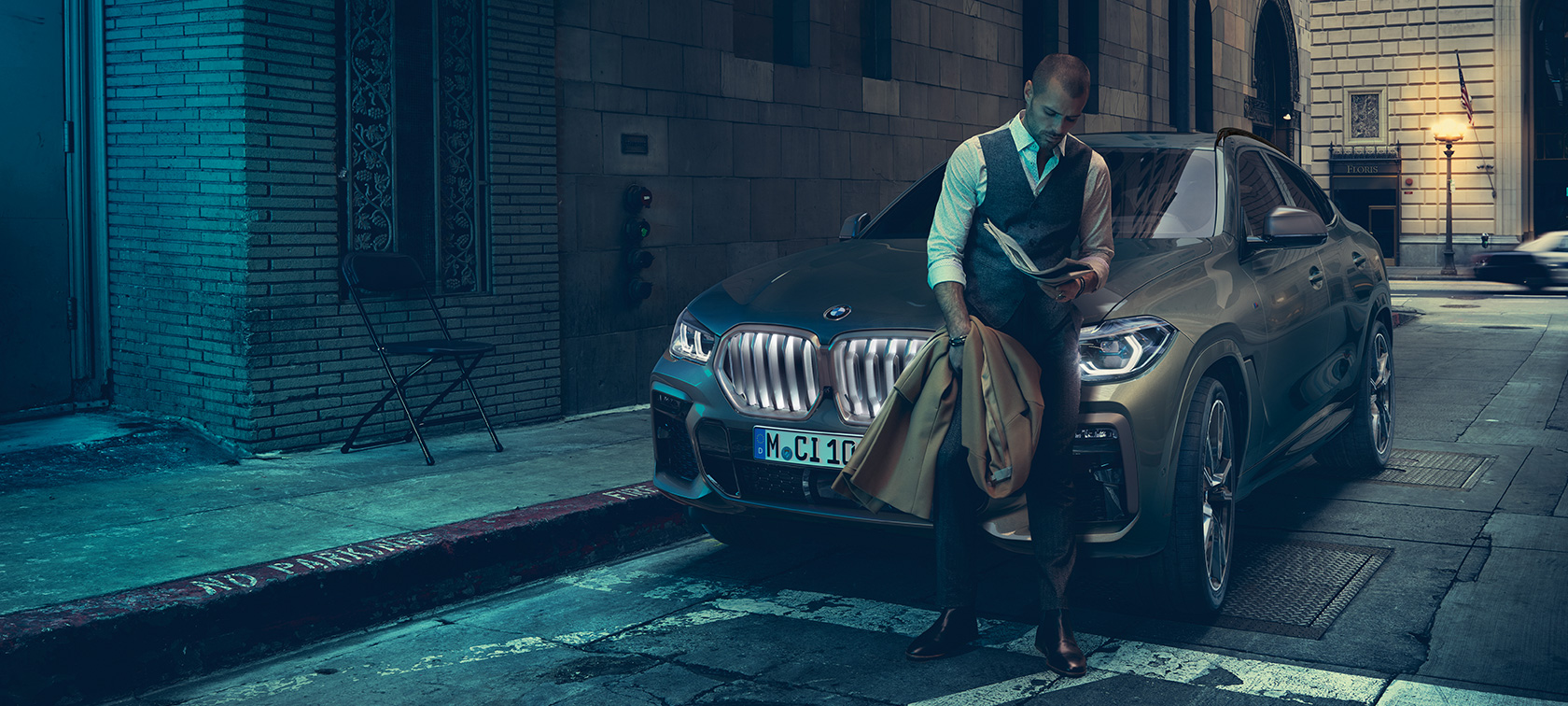 BMW kidney grille 'Iconic Glow'.
The BMW kidney grille 'Iconic Glow' sets impressive visual highlights. With its innovative LED fibre technology, it enables sensational white light scenarios – for example while driving or when opening and closing your vehicle.
BMW Laserlight.
In laser high-beam mode, BMW Laserlight in a unique X design illuminates a range of up to 500 m, nearly twice as far as that of conventional headlights. Better visibility in the dark significantly increases safety. The blue X signature and the "BMW Laser" lettering underline the vehicle's technological standards.
Welcome Light Carpet.
The Welcome Light Carpet function projects an ambient light graphic in front of the vehicle doors and creates a surrounding welcome ambience right at the entrance. The light carpet also makes getting out in the dark even more comfortable and safe.
Panorama glass roof.
When open, the Panorama glass roof provides a great deal of fresh air. Closed, it creates a bright, light-flooded atmosphere in the interior. It opens and closes completely automatically at the push of a button or with the vehicle key, and is equipped with slide and lift functions, roller sunblind and wind deflector.
22" M light alloy wheels Double-spoke style 742 M with mixed tyres.
22" M light alloy wheels Double-spoke style 742 M Jet Black with mixed tyres, front 9.5J x 22 with 275/35 R22 tyres, rear 10.5J x 22 with 315/30 R22 tyres.
Ambient light.
The standard Ambient light, including Ambient contour lighting in the front and rear doors, creates a relaxed, cosy lighting atmosphere in the interior. The Welcome Light Carpet illuminates the area in front of the vehicle doors when entering and exiting. Six dimmable light designs in White, Blue, Orange, Bronze, Lilac and Green are available.
Glass application 'CraftedClarity' for interior elements.
The 'CraftedClarity' glass application comprises hand-made glass elements that visually and tactilely enhance the interior. The details of the gear selector, volume control, iDrive Controller and Start/Stop button are made of fine crystal.
Panorama glass roof Sky Lounge.
The Panorama glass roof Sky Lounge creates a generous sense of space during the day, while at night it lends an atmospheric mood with a light design consisting of more than 15,000 light elements. The light design can be switched between six Ambient light colours.
THE INNOVATIVE TECHNOLOGIES OF THE BMW X6.
The future has been waiting for this.
The BMW X6 makes leading look easy: with a range of ultra-modern technologies and features that allow every journey to be designed with the maximum possible comfort. Innovative features like the Digital Key, temperature-controlled cupholders or the impressive 12.3" touch-capable Control Display support you in every situation. And, thanks to Rear-seat entertainment Professional, comfort seats with massage function and ventilation alongside the Ambient Air package, a maximum amount of entertainment and recuperation is on offer.
Luggage-compartment package.
The luggage-compartment package includes not only flexible fastening nets and the slide and anti-slip rails in the luggage compartment, but also the flex net, which can be attached to various eyelets and can also be used as a shopping bag.
Temperature-controlled cupholder.
The temperature-controlled cupholders in the centre console can individually cool or keep stored beverages warm. The temperature control is activated via buttons on the left and right. The ambient lighting also indicates the function (blue for cooling or red for heating).
BMW Head-Up Display.
The full-colour BMW Head-Up Display projects all information relevant to the journey directly into your field of vision, allowing you to fully concentrate on driving. Information such as the current speed, navigation directions, Speed Limit Info including no-overtaking indicator, along with telephone and entertainment lists are displayed.
BMW Live Cockpit Professional.
The BMW Live Cockpit Professional with navigation function includes two high-quality displays consisting of a high-resolution 12.3" Control Display that can be operated by touch and a fully digital 12.3" instrument display.
Bowers & Wilkins Diamond Surround Sound System.
The Bowers & Wilkins Diamond surround sound system with two diamond tweeters features outstanding studio-quality sound for every seat in the vehicle. 20 carefully positioned speakers with a total output of 1,500 watts provide a mesmerising sound experience. Individual speakers are highlighted with specific illumination, visually emphasising the system's outstanding sound quality.
Rear-seat entertainment Professional.
Rear-seat entertainment Professional includes two separate high-resolution 10.2" colour screens with touch function that can be tilted and a Blu-ray drive. In this way, it becomes possible to use navigation and internet functions while driving (if a mobile phone contract exists). Additionally, a USB port and connections for MP3 players, game consoles and headphones (even wireless) are included.
Ambient Air Package.
The Ambient Air Package comprises a fragrance dispersal function and an air ionisation function. There are several fragrances to choose from, all specially composed for the vehicle. Two of them can be used in parallel and selected alternately.
DRIVING ASSISTANCE SYSTEMS AND CONNECTIVITY FEATURES IN THE BMW X6.
Pioneer of perfection.
Alongside all the technologies and features such as the BMW Head-up Display, the BMW X6 still has more than enough space for numerous assistants and services. Equipped with the latest generation of BMW assistance systems, such as the Reverse Assistant or the Driving Assistant Professional with Steering and Tracking Assistant incl. tight manoeuvring support, local hazard warning and lane departure warning with active side collision protection, guarantee a maximum level of safety at all times. And, thanks to the innovative voice control system BMW Intelligent Personal Assistant, you can concentrate on what is essential: sheer driving pleasure.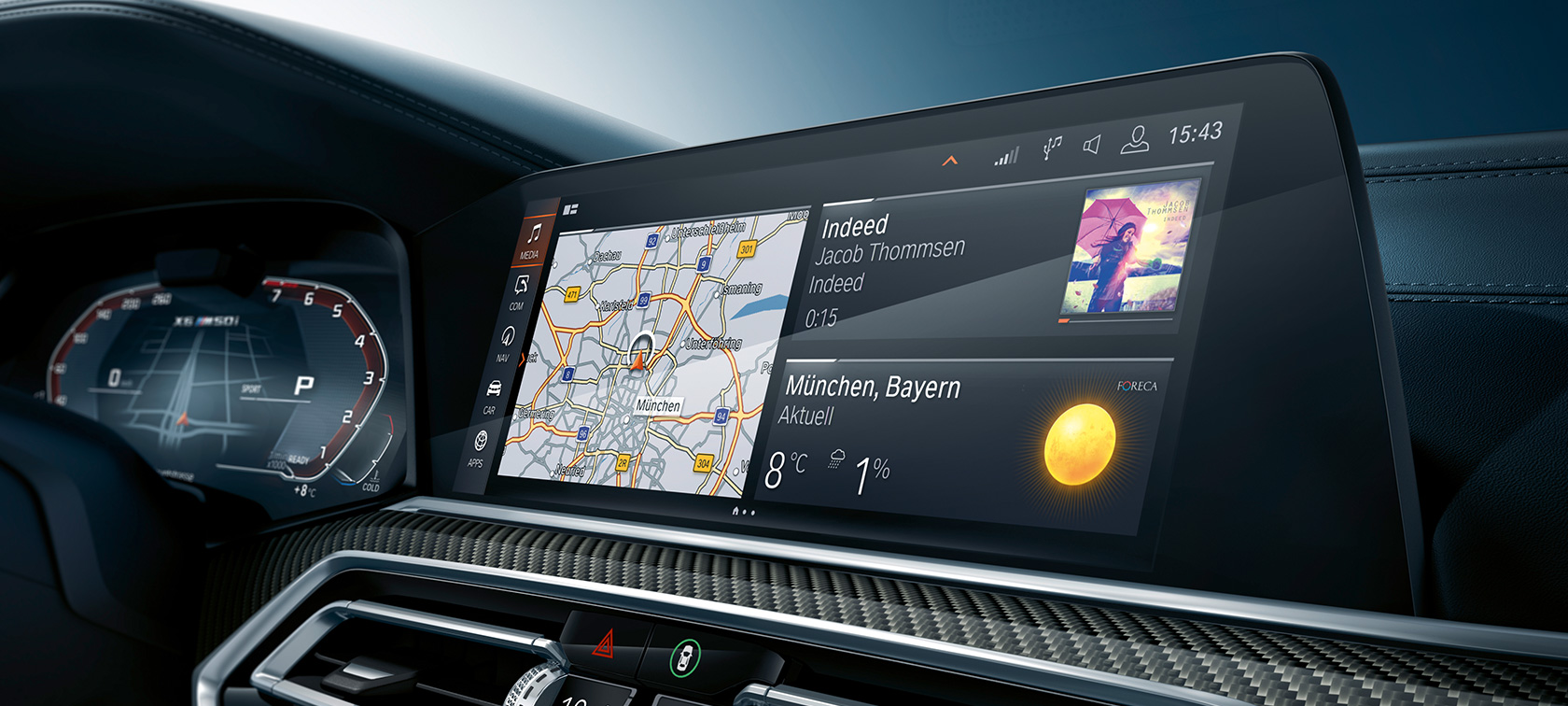 BMW Intelligent Personal Assistant.
'Hey, BMW. Who are you?' Wouldn't it be incredible if your BMW also came with a personal assistant? Communicate with your vehicle using the BMW Intelligent Personal Assistant. It knows you, gets better every day and helps out whatever the situation. You can assign your own personal activation word. It can explain everything about your car and helps you to get to know your BMW even better.
Automate My Habits.
Do you always turn on the seat heating to level three when it is cold? Automate My Habits is an intelligent feature that memorises your preferred settings and can activate them automatically. You can then enjoy the journey while your BMW Intelligent Personal Assistant takes care of your well-being. More automation options will be added in the future.
Connected Music.
Listen to your favourite music wherever you are. Classical on the motorway, jazz during rush hour and pop when you're cruising. With Connected Music, you can directly stream as many as 30 million songs without any limits, courtesy of BMW's music partners Spotify, Deezer and Napster, using the SIM card installed in your vehicle.
ConnectedDrive Services.
ConnectedDrive Services opens the door to the digital world of BMW. Use in-vehicle apps to stay fully up to date at all times regarding the news and weather. ConnectedDrive Services is a basic package that is needed when purchasing other digital services.
Parking Assistant Plus.
Parking Assistant Plus makes parking and manoeuvring the vehicle easier. It features among others the Surround View system including Top View, Panorama View, Remote View 3D, as well as a lateral parking aid, the emergency braking function Active Park Distance Control, Parking Assistant with longitudinal and lateral guidance and Reversing Assistant.
Driving Assistant Professional.
Driving Assistant Professional offers optimum comfort and maximum safety during critical or monotonous traffic situations. It includes Steering and Lane Control Assistant incl. support in narrow places, Lane Change and Emergency Stop Assistant, local hazard alert and Lane keeping assistant with active side collision protection as well as other safety functions.
ConnectedPackage Professional.
Concierge Service, Remote Services, Connected Music, Preparation for Apple CarPlay®, In-Car Experiences or the Connected Navigation Services Real Time Traffic Information and Parking Space Assistant? Why order them individually? Get them all! With the Connected Package Professional, you can enjoy these BMW ConnectedDrive services as well as BMW Music to test free of charge.
Connected Command.
Would you like to concentrate fully on the road ahead? Then hand over some of the control to your passengers. This is easy with Connected Command. Using the BMW Connected app, passengers with your authorisation can access the entertainment and navigation systems. They can also adjust key features of the air conditioning system.