With next generation technology, unparalleled performance and an even bolder design, the BMW X4 turns every outing into an adventure. No matter what challenges may lie in your way, the BMW X4 eagerly anticipates them. Its progressive design and the coupé-like contours instantly reveal its thirst for action. With the first-class driving dynamics, the innovative lightweight construction as well as its higher performance level – the only thing between you and your destination is ultimate driving pleasure.
Read more
01

Athletic exterior with distinctive coupé shape

02

Exceptional performance thanks to 500 Nm

03

Sporty and elegant interior

04

Has one of the most intelligent driver assistance systems in the Driving Assistant Plus

05

Always punctual and ideally connected thanks to innovative digital services
DESIGN AS BOLD AS YOU.
A statement of powerful agility with athletic curves. Combining the elegance of a coupe with the bold design of a BMW X model, the BMW X4 warrants all the attention it gets.

Read more
SPORTY AND ELEGANT INTERIOR.
Designed with the driver at the forefront, the interior boasts an exceptionally high level of comfort and functionality with a modern and sporty ambience. With a user friendly and premium feel it is the perfect blend of robustness and high-class elegance. The standard electronically adjustable sport seats offer a comfortable driving position.
Read more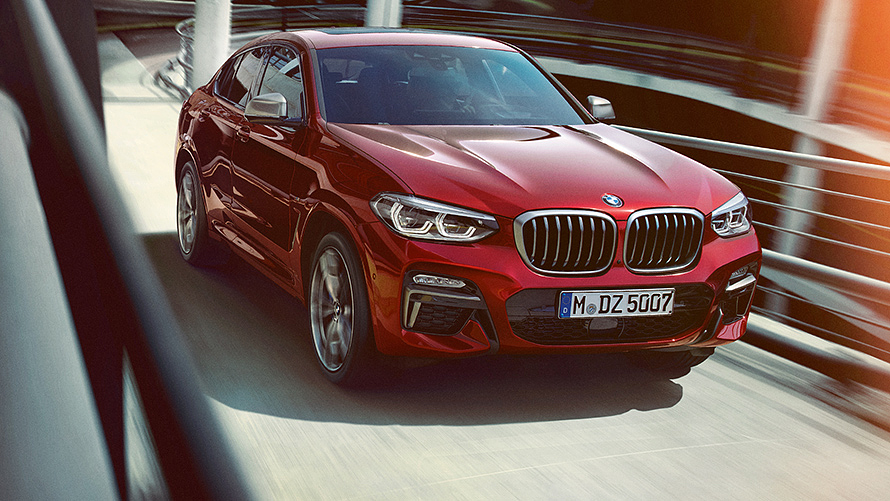 ATHLETIC EXTERIOR.
A hybrid of the stylish and distinctive BMW Coupé and the rugged BMW X model, the BMW X4 is its own icon. The size and three-dimensional design of the double kidney grille visualises power and authority. The external air inlets add a sportier appearance. The muscular flared design of wheel housings emphasise the off-road character of the BMW X4. Reinforcing the sporty character of the vehicle are the slim rear window and the extremely low- slung roof spoiler. The expressive rear rounds off the overall dynamic impression of the BMW X4.

Read more
TECHNOLOGY THAT PUTS YOU IN CONTROL.
The BMW X4 boasts class leading technology and connectivity. BMW Personal CoPilot guarantees the maximum level of safety and comfort while at the same time the innovative infotainment system entertains and informs. State-of-the-art digital services from BMW ConnectedDrive ensure you are connected at all times when on the road – for simple and relaxed daily mobility.

Read more
UNPARALLELED PERFORMANCE.
The remarkably agile chassis, precise steering and a low centre of gravity of the BMW X4 are made for the ultimate driving experience. All variants direct their engine power to the road via an eight-speed transmission with shift paddles on the steering wheel and the intelligent BMW xDrive all-wheel drive system as standard.

Read more